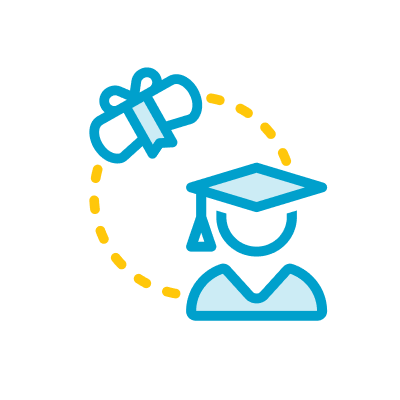 Exceptional undergraduate and graduate education
We will reimagine undergraduate and graduate education to continue enhancing and enriching the student experience.
At our core, we are a teaching and research university and have a long history of providing exceptional and innovative undergraduate and graduate education. Driven by our Meliora values, we are always striving to make our academic programs, student experiences, and campus community ever better. Students and their families choose the University of Rochester because they have an expectation that we will prepare them to face challenges that will be different and more uncertain than those faced by previous generations. Our society needs institutions that position their graduates to live and work with diverse people with different life experiences and perspectives, rapidly adapt to changing communities and work environments, and possess an ability to continuously learn and grow.
We will continue to evolve and enhance the student experience so that we develop leaders, citizens of the world, and learners who live our Meliora values, positively impacting the world once they leave the University. We face a rapidly changing future of education, society, and vocation that demands adaptable, nimble leaders. We are committed to ensuring that our graduates are prepared to thrive and lead.
Achievement of this goal
Position the University as a premiere residential undergraduate destination of choice for college-bound individuals.

Ensure that all students have at least two high-impact experiential learning experiences to develop meaningful and practical competencies. These experiences can include research, internships, mentorships, and community-engaged learning.

Increase scholarship support for undergraduate students from 7 percent to 20 percent from endowed funds; further financial support for graduate students to compete with top research universities.

Optimize a 12-month calendar for learning and cocurricular experiences.

Increase and improve residential housing options.

Enhance student life experience of students through reorganization, new initiatives, and integrated opportunities to learn and thrive.

Increase accessibility for historically minoritized groups and members of the Rochester community.

Ensure all students feel a sense of belonging and are empowered to pursue their unique academic interests.
Measures of success
Definitions of measures of success will be coordinated across the University to create consistency and increase transparency. Detailed metrics for each of the following areas will be available via dashboards and updates on our Progress page at the end of our first year.
Data will be presented as aggregate student data and subgroup data by identity (first-generation, historically minoritized groups) or academic profile (class year, degree, program). Future reports will evolve from baseline data to include future targets, peer benchmarks, and national trends.
Incoming student talent
Student experience and satisfaction
Outcomes
Have questions or feedback?