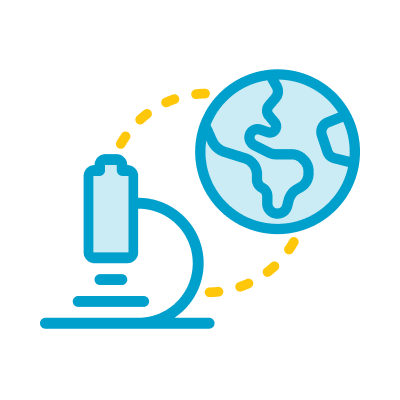 Research excellence and global reputation
We are committed to building and reinvigorating our research ecosystem and leveraging our distinctive strengths.
The University of Rochester is at the cutting edge of critical research, discovery, and creative work. Looking ahead, we aim to make a powerful impact on local and global communities by investing in the areas of basic, applied, and translational research and creative work where we are best positioned to contribute to society in meaningful ways. Now is the ideal time to renew our institutional focus on these 
areas of distinction
.
We will better leverage existing and new industry partnerships as well as our intellectual capital to scale the impact of our research while also seizing upon funding sources from federal and state agencies, the private sector, and foundations to support our efforts. We are committed to building and reinvigorating our research ecosystem as we extend our historical strengths into exciting new areas where we are in a position to lead.
Achievement of this goal
Create conditions that promote research addressing current and emerging issues that will affect society as well as the ability to recruit and retain extraordinary scholars who engage in this pursuit.

Create at least five new transdisciplinary centers.

Add at least 50 new faculty lines across the School of Arts & Sciences, Hajim School of Engineering & Applied Sciences, and Eastman School of Music, with additional new lines created in line with academic program and research growth in the Simon Business School, School of Medicine and Dentistry, School of Nursing, and Warner School of Education and Human Development.

Add a minimum of 300,000 new square feet of research and teaching space to River and Eastman campuses; 700,000 new square feet of clinical, teaching, and research space on the Medical Campus.

Enable an organizational structure that encourages and removes friction and barriers to transdisciplinary collaboration and interaction while being agile and responsive to emerging opportunities and simultaneously ensuring that the disciplines remain strong.

Define and support our doctoral graduate programs that are poised to contribute to the next generation of scholars, scientists, and creative leaders.
Measures of success
Definitions of measures of success will be coordinated across the University to create consistency and increase transparency. Detailed metrics for each of the following areas will be available via dashboards and updates on our Progress page at the end of our first year.
External grants supporting research
Publications, inventions and discipline-specific scholarly works
Diversity of the faculty, students, and staff
Honorific awards (external to the University)
National/International metrics and rankings
Have questions or feedback?